Kiryu's travel products
Easy Kiryu sightseeing prepared by a travel agency
It is fun to gather information on your own and complete your own Kiryu sightseeing course. However, we would like to introduce travel products such as tours including Kiryu made by a travel agency to you who want to go to Kiryu more easily.
If you have a travel product to visit Kiryu, please contact us. We will advertise publicity on this page.
Telephone: 0277 (46) 1111 Extension line 566 (Secretariat: Kiryu City Tourism Exchange Division)
New Year's experience tour of Kurohone at the east foot of Akagi-yama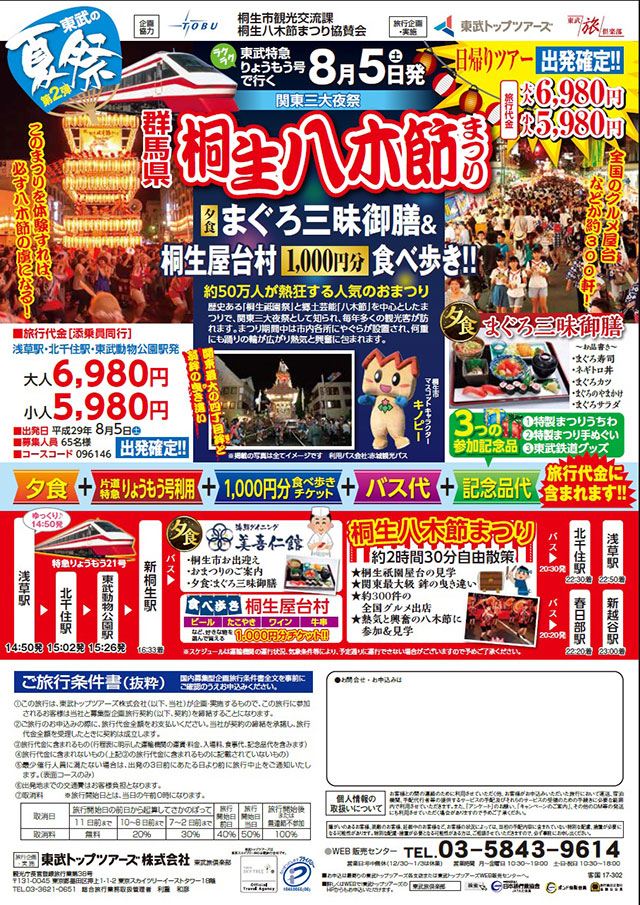 New Year's experiences such as rice cakes with mochi at Kuroyu city in the foot of Akagi mountain! Make a large rope and tie it to a kameishi, attracting good luck.
On that day, you can use the Tobu express train to go back and forth to go back to Tokyo without transfer and also take the popular local line "Watase Valley Railway". For details, please see the document.

Date: January 14 (Sun) 2018
Travel fee: Adult 9,980 yen, Child 8,980 yen
Handling company: Tobu Top Tours Co., Ltd.
For inquiries: 03-5843-9614
Kiryu Yagibushi Festival Tour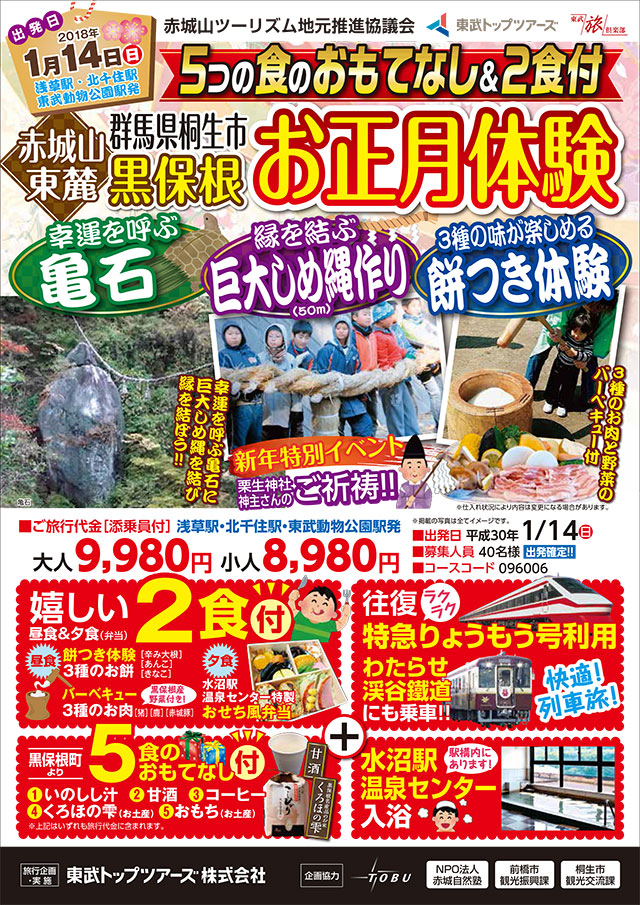 It is a tour where you can experience 'Kiryu Yagibushi Festival' where about 500,000 people come every year.
On the day, you can enjoy the authentic Yagi-bushi, which is played at the tower (Yagura), and a stand with more than 300 stalls.
For details, please see the documentation.
Date of operation: August 5 (Sat)
Travel fee: Adult 6,980 yen, Child 5,980 yen
Handling company: Tobu Top Tours Co., Ltd.
For inquiries: 03-5843-9614