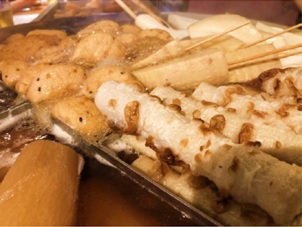 Regarding the product sales business conducted by Hotland Co., Ltd. in the Kiryu City Tourist Information Center "Silkle Kiryu", the "Gindaco Makikore Wine Bar" will end on September 27 (Sun), and October 16 (Fri). ) Will be reopened as "Odenya Takeshi Silkle Kiryu Store".
You can enjoy creative oden that makes the best use of the deliciousness of the ingredients by using two types of soup stock, "Chin Dashi" and "Chicken Dashi".
We also offer a variety of menus using local ingredients such as umeboshi sour made from paulownia-produced umeboshi and mushrooms from local companies. Please feel free to drop by.
For reservations, please call 0277-46-8110 (Odenya Takeshi Silkle Kiryu).
For details, please see Kiryu City Homepage (external link) .
[Name] Odenya Takeshi Silkle Kiryu
[Place] Inside the Kiryu City Tourist Information Center "Silkuru Kiryu" (5-354 Honcho, Kiryu City)
[Business Hours] 4:00 pm to 9:00 pm
[Regular holiday] Monday
[Renewal opening date] October 16, 2nd year of Reiwa (Friday)