We are supporting mr. Kiryu!
Recorded the first 9 seconds for Japanese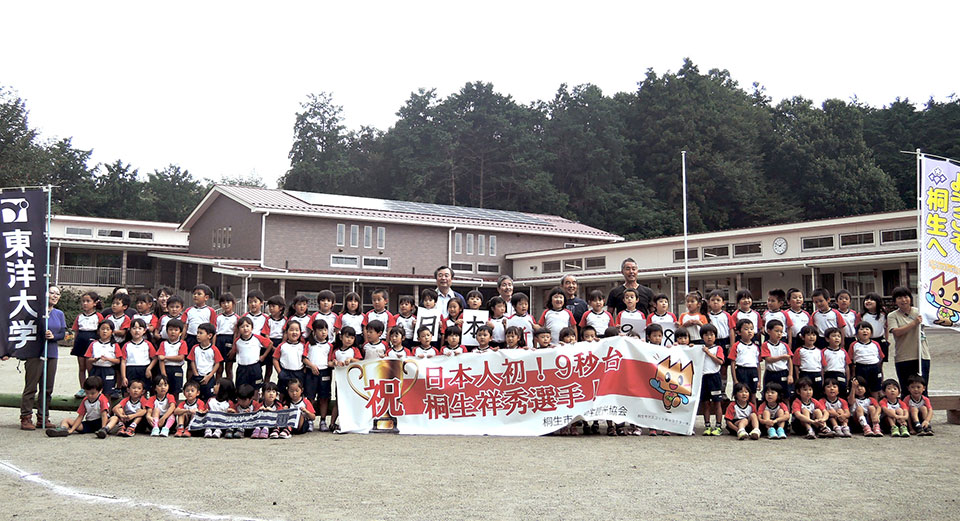 Our Kiryu Tourism Association has supported the athlete who has the same name "Kiryu", Yoshihide Kiryu. On September 9, 2017, at the Japan Student Athletics Championship 100 m final, recorded 9.98 which is the first nine seconds for Japanese. He became a player who wrote a long-awaited page in Japanese land track history! Congratulations Kiryu! From now on, the Kiryu Tourism Association will continue to cheer for the Kiryu record update.
Mr. Kiryu's profile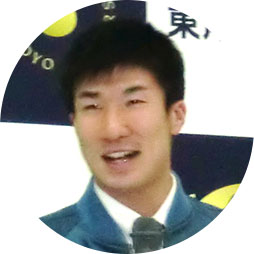 Kiryu Yoshihide
Affiliation

Affiliation Hikone Minamiaka (Shiga) → Lakanan High School (Kyoto) → Toyo University → Nihon Seimei

Birth date

15th December 1995

Hometown

Shiga Prefecture

Self Best

100 m: 9.98
200 m: 20.39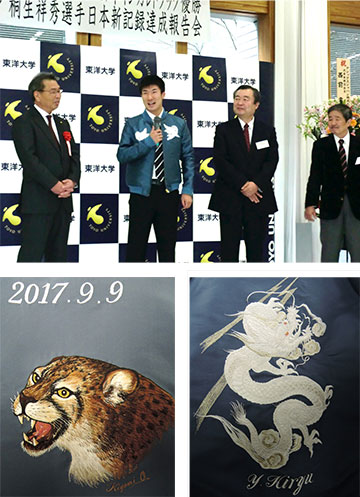 Latest Topics
On November 12, 2017, we were invited to "Kiryu Shoshihide's Japan Record Achievement Meeting" held at Toyo University.
As a souvenir of achievement of the new record, the Kiryu Tourism Association and the Kiryu Regional Product Promotion Association gave Sukajan who was embroidered with Kiryu City's embroidery artist Kiyomi Osawa from Mayor Kiryu!
Kiyomi Osawa is an embroidery artist from Kiryu. In 1996 he was awarded the Huangjin Prize and he is active as a contemporary masterpiece.
Sukajan was made much as a souvenir of the stationed army after the Second World War. Many are made in Kiryu who accumulated technologies such as weaving, sewing and embroidery, sometimes called birthplace.