"Kiryu Orito" Guide Association Kiryu Citizen's One Coin Tour "Kiryu History and Culture Materials"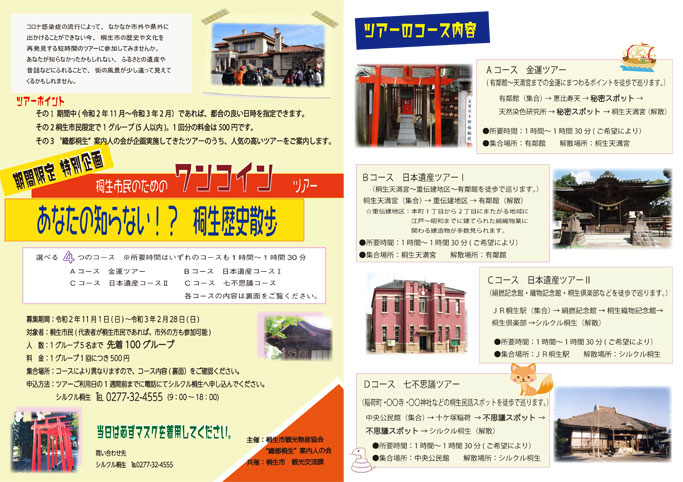 Now that it is difficult to go out of the city or prefecture due to the epidemic of the new coronavirus infection, the "Kiryu Orito" guide group will happily guide Kiryu citizens to the familiar areas.
By touching on the heritage and old tales of your hometown, you may be able to rediscover the history and culture of the area and discover things you did not know unexpectedly! !!
In addition to the basic Jyudenken district course, we will guide you through 4 courses including the course that was well received in the self-planned tour.
[Recruitment period]
Desired date from November 1st (Sun), 2nd year of Reiwa to Sunday, February 28th, 3rd year of Reiwa
[Target person]
Those who live in Kiryu City However, if the representative is a Kiryu citizen, people outside the city can also participate.
[Number of people]
First 100 groups (up to 5 people per group)
[Fee]
1 group 500 yen
【course】
① Money luck tour (walk around the points related to money luck from Arikankan to Kiryu Tenmangu)
(2) Japan Heritage Tour (Walking around buildings related to the silk fabric industry from Kiryu Tenmangu to Arikan)
③ Japan Heritage Tour II (Walk around the Silk Twist Memorial Hall, Kiryu Textile Memorial Hall, Kiryu Club, etc.)
④ Seven Mysteries Tour (Walk around Kiryu folktale spots from Inaricho to Honmachi.)
[How to apply]
Apply by phone to Kiryu City Tourist Information Center (Kiryu Kiryu) at least one week before the tour date
TEL 0277-32-4555 (9: 00-18: 00)